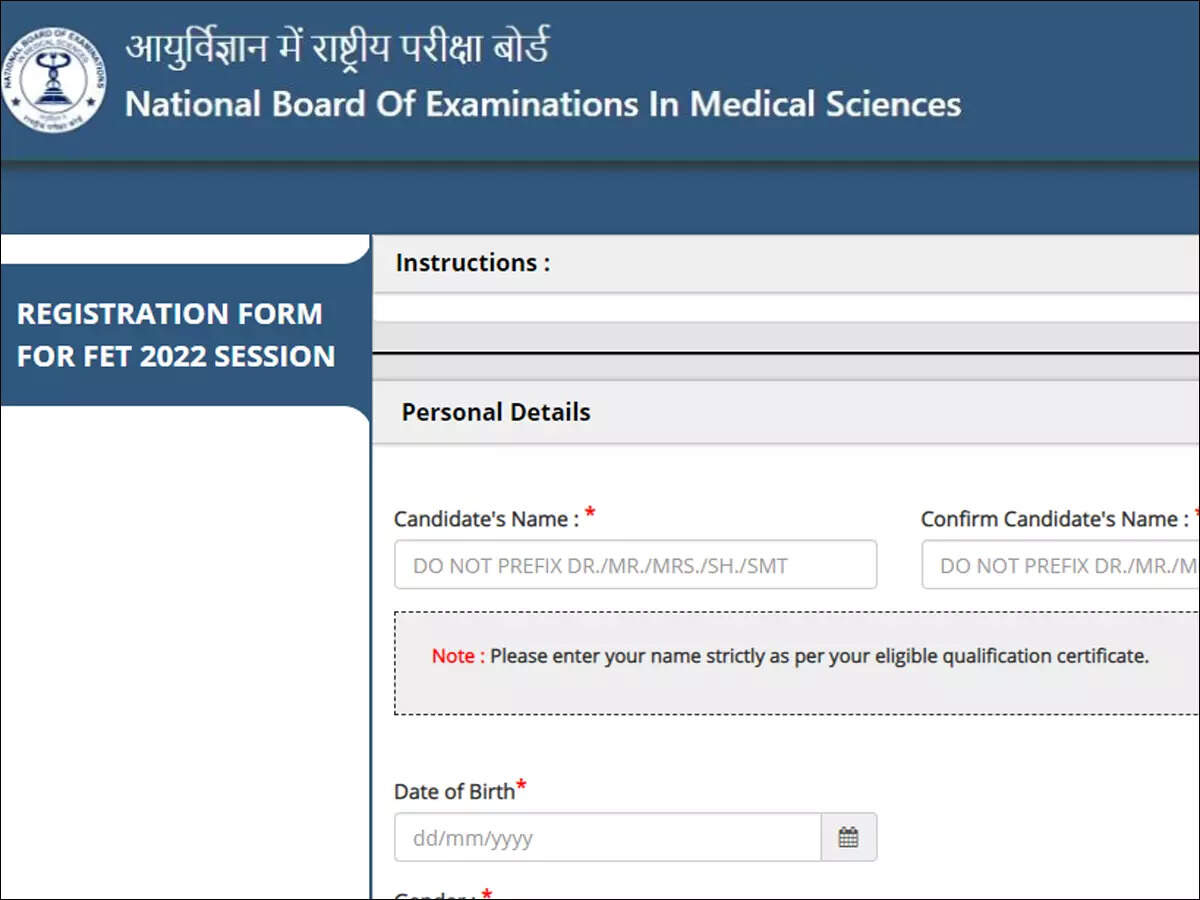 NEW DELHI: National Board of Examinations in Medical Sciences (NBEMS) has started online application registration for entrance examination for admissions to the NBEMS fellowship programme.
Students with DNB/MD/MS/MCh/DM qualifications in the concerned speciality are eligible for admission to the NBEMS fellowship programme.
Interested and eligible candidates can apply online on the official website – https://natboard.edu.in/. A student can submit FET 2022 application form only once.
The trainee will go through a structured training programme, maintain a performance record book and undergo an examination at the end of the training. On successfully qualifying for the Fellowship Exit Examination, students will be awarded Fellow of National Board (FNB)/Fellow of National Board – Post Doctoral (FNB-PD) at the annual convocation of NBEMS.
NBE FET 2022: Important Dates
Both Indian and International students can join NBEMS Fellowship courses. Fellowship Entrance Test (FET) is a qualifying-cum-ranking examination for admission to Fellow of National Board (FNB)/Fellow of National Board – Post Doctoral (FNB-PD) courses.
Students who are in possession of a recognized postgraduate medical Degree/Provisional Pass Certificate (MD/MS/DM/MCh/ DNB/DrNB) or an equivalent recognized qualification or likely to be in possession of the same by the prescribed cut-off date for a particular admission session in accordance with eligible feeder qualifications for Fellowship can apply for Fellowship Entrance Test.
Direct link to apply online
NBE FET selections criteria
The selection criteria for the National Board of Examinations (NBE) Fellowship Entrance Test (FET) may vary depending on the specific programme and speciality being applied for. However, in general, candidates must meet the following criteria to be eligible to take the FET:
* Must be a medical graduate (MBBS or equivalent) recognized by the Medical Council of India (MCI)
* Must have completed a one-year mandatory rotating internship on or before 31st March of the year in which FET is conducted
* Must have a valid permanent or provisional registration certificate of MBBS qualification issued by the MCI or State Medical Council
In addition, some programmes may have additional criteria such as a minimum percentage of marks in the qualifying examination, or a minimum number of years of experience in a related field.